How Remote Monitoring and Management software can make your business more efficient?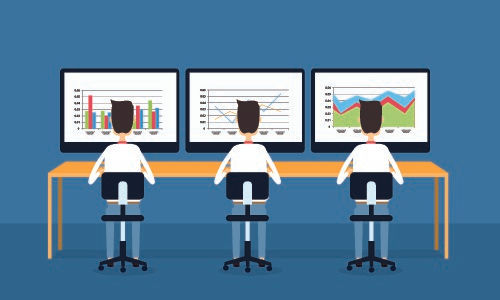 Remote monitoring and management is the process of tracking, managing, and monitoring endpoints for multiple clients. The software assists the IT vendors to monitor the whole system of an organization remotely. The system is very efficient as if any failure occurs, help can be dispatched to the site quickly, and downtimes can be avoided.
Some RMM tool even comes prepared with the ability to record video sessions which can be referred later to find the source of failures. The world is becoming more and more virtualized, and Remote Monitoring and Management software allows us to adapt to the technology as it evolves.
Why do you need Remote monitoring and management?
One of the main reasons to use an RMM tool is to improve your system's security. You can connect all your workstations and servers to the RMM tool to continuously monitor their behavior. The device can also send updates to all the connected systems so that vulnerabilities can be covered as soon as they are discovered.
Hackers mainly target security flaws and exploit them for their own benefit. This can put your computer at risk without your knowledge. It can steal sensitive data from your system or allow the hacker to gain control of your computer, which can result in far more damage.
This is why all your systems and software should be updated promptly as patches and firmware upgrades are available to avoid any vulnerabilities.
How does RMM software works?
RMM is deployed to your system through an agent software installed on your computers, workstations, servers, mobile devices, and other computing devices. Information data, like device health and status from all the systems, are then sent to the administrators who have access to the dashboard of the RMM tool.
If any vulnerabilities are detected, the administrator sends alerts to all stations, and a trouble ticket gets generated so that the issues can be resolved as quickly as possible. The RMM platform also generates trouble ticked based on their priority. This helps you determine which issue you should address first. With the RMM tool, you can run all your IT operations smoothly and effectively.
Benefits of remote monitoring and management
It gives you total control and visibility of all your IT operations from one place so that you can quickly secure and manage your system.
It allows you to easily work behind the scenes to deploy security patches, system updates, and troubleshoot all the issues in particular computing hardware remotely.
It provides you with enough set of tools to track trouble tickets issues and resolve them quickly.
With RMM, the offline chat is possible with the users while the issues are being fixed.
You can even install and configure the software you need to run your business remotely from anywhere.
With regular system updates and service, the life of devices can be extended with improved performance.
RMM tool allows your MSPs to scale, expand your client base, and provide service 24×7 round the clock.
Some top vendors available
Atera is all in one remote monitoring and management software made especially for all the IT service providers out there. It is one integrated solution and includes everything that you need to grow your business. The software comes with a fixed monthly plan that helps all the IT businesses grow with fewer expenses.
ConnectWise Manage is a tool designed to automate your IT services. It keeps all the members of the members in the loop by creating a single easy to follow the flow of information from start to finish. It improves your ability to serve the customer in a better way by establishing a clear communication channel. You can quickly gain control of your team by implementing this solution in all your IT system.
Maverick is an all in one RMM software that provides robust technology for monitoring, management, alerting, patching, and automation for all the IT business owners. It comes with a 7-day free trial, so you can use and check how the tool suites your needs.
Itarian patch management is the best and fastest way to gain control over all computing devices you manage and install the latest security patches needed. You can use it to make your Windows OS up to date with the latest features and also install more than 400 third party applications.
Author Bio: I am Greg Wilson, a Content Writer working with GoodFirms, a research and review platform for service and software companies. I am passionate about blogging, creative writing, social media, and content marketing. I write blog posts for GoodFirms about Cloud Computing, IoT development, SEO Software and many more such categories.